Home > About the author
ABOUT THE AUTHOR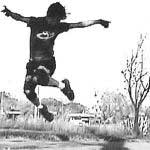 Education
Erik Chan is an MLIS (Master of Information and Science) candidate, currently studying at the University of Western Ontario, in London, Ontario. He has an undergraduate degree in Fine Art from the University of Manitoba's School of Art in Winnipeg, Manitoba.

Teaching footbag
He has been practicing the sport of freestyle footbag for over 14 years and in that time he has taught a number of new players in person and online, one-on-one and in public demonstration and workshop settings. What he has found, particularly in his own experience from learning the sport primarily online, is that people today demand a quick and convenient means of understanding that an internet resource with the added value of video demonstration can most efficiently provide.

Discovering footbag
Although casually kicking a crocheted footbag since 1994, he did not discover freestyle footbag until 1999, upon witnessing the talent of footbag pioneer Chad Devlahovich in the major motion picture, She's All That, shortly followed by visiting Chicago, the city of 1999 world champion Scott Davidson. Immediately after seeing the film, he rushed home to search the internet for "hacky sack," discovering the home of the International Footbag Players' Association (IFPA), Footbag Worldwide, and absorbing all of the content and knowledge that it had to offer. Thus he seeks to teach and spread footbag awareness and knowledge via the internet, just as he learned.
Footbag is his passion.

Video: "Footbag: Erik Chan (April 2012)," by Erik Chan.
For best experience view in full screen at 720p.